About
Short, third-person bio
Cam Coulter is a writer and accessibility nerd, among other things. They work as a digital accessibility consultant, and they think incessantly about ethical technology, speculative fiction, and intentional community. They blog about social justice, simple living, community, and spirituality at The Ruined Report, and they occassionally write about science fiction and fantasy for Skiffy and Fanty. Their poetry has appeared in Eternal Haunted Summer, Eye to the Telescope, and Polu Texni.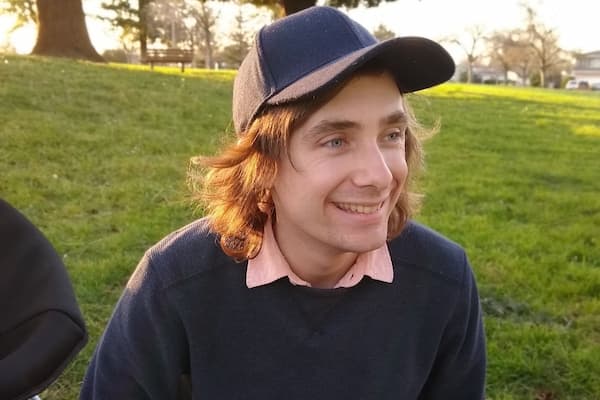 Longer, first-person bio
I like science fiction and fantasy (SFF), particularly the written kind. I get excited about stories that rethink family structures, imagine intentional communities, pay attention to religion and people of faith, investigate the commons, or obliterate gender. I write about SFF on this site as well as on Skiffy and Fanty. I'm a member of the Science Fiction and Fantasy Poetry Association (SFPA), and I enjoy writing SFF fiction and poetry.
I'm a GNOME/Fedora (Linux) user, a big fan of Free Software, and a supporter of the Software Freedom Conservancy. I like to make websites and administer GNU/Linux servers.
I'm a graduate of Santa Clara University, and after college I did a year of service with the Jesuit Volunteer Corps in Baltimore, MD. These days, I contribute to and manage The Ruined Report, a blog by and for former Jesuit volunteers and friends that features posts about social justice, simple living, community, and spirituality.
Professionally, I work as a digital accessibility consultant, helping to make websites and apps work well for people with disabilities and for people who use assistive technologies like screen readers. I'm a Certified Professional in Accessibility Core Competencies (CPACC) and a member of the International Association of Accessibility Professionals (IAAP). Before I started working in digital accessibility, I worked in disability services, starting with two years at L'Arche Heartland, a community of adults with and without developmental disabilities in the Kansas City metro area.
Contact
Email Cam Coulter
Find me online